A colourful and warm-hearted evening event in Hebden Bridge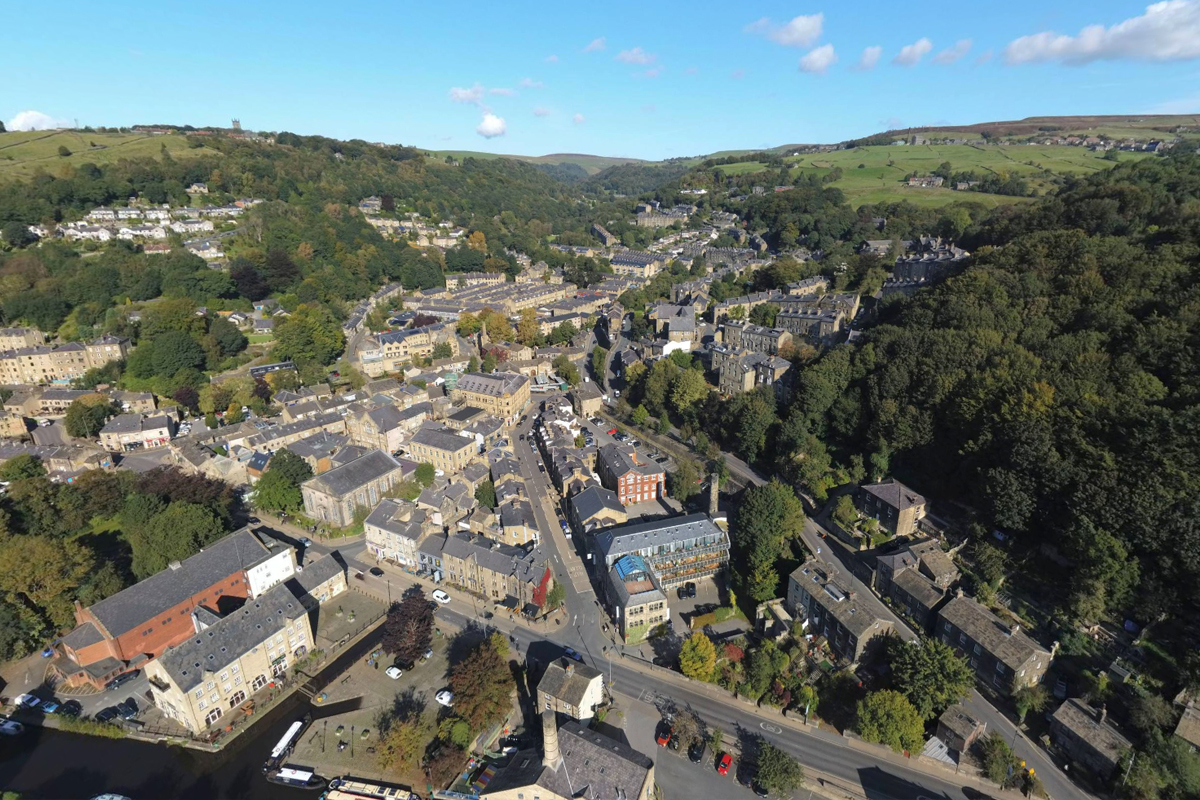 Hebden Bridge is a 500-year-old town deep in the Calder Valley in the English Pennines – a range of high hills and winding valleys carved by glaciers long ago. It's a bit over an hour north of Manchester by car, and not very far from other villages; but it's a world apart from any of this. Called "the Totnes of the North," it is picturesque home to artists, poets, independent shopkeepers, a yoga centre, galleries, many cafes, outdoor markets. There's a nice square in the middle of town where people congregate to sit on the many benches and listen to amplified buskers. And there are bridges, and more than one river…
And, every few years, after weeks of rain, those rivers rise over their banks and inundate the town – and other towns all up and down the valley – and then, after some hours to get partly over the shock and gather up resources, the clean-up starts… A third of the businesses close (flood insurance is not given for these towns), and then everything somehow starts up again. New businesses appear, but the trauma lingers… What nobody wants to hear is the sound of the flood-warning horn blaring through the night.
When I first arrived, in August 2012, the town was still staggering in the aftermath of a bad flood. And at midnight on Christmas day, 2015, the flood-warn horns began to bray, and another epic flood devastated the valley.
But this year, though rain has fallen in great quantity since July, there have been no floods. This is because of a charity called Slow the Flow, which has taken to the hills every other weekend since 2016 (except during the pandemic), with 100 volunteers, to build leaky dams from brush they find on the site – no materials are brought in. The aim is to keep the water up high as much as possible. And it works!!!
How do I know this? Because I had the novel, delightful experience of doing a poetry reading to aid this charity and another one – Calder Community Cares, in place since the pandemic to provide all sorts of help to local people. (The reading was also to launch my new book, To Hills and Waterfalls: a Californian in Calderdale.) And towards the end of my reading, I had the novel experience of inviting the spokesman from Slow the Flow up to talk to the audience; and then Jan Lymer, the glowy, intense, sparkly, warm, go-gettery little founder of Calder Community Cares, spoke about her organization. And then I read a bit more.
The event was held in a novel place, too: the spacious Kindness charity shop run by Calder Community Cares, right on the Marina at the canal-side, near the Picture House. Racks of clothes were pushed back, chairs brought in, a table emptied for the display of my books (Thank you Chintan for taking care of that part). The counter was cleared and I put a sari down as a tablecloth. Chintan and I brought lots of healthy goodies, cookies and chocolates and apples and kombucha and crackers and vegan cheese; and Jan provided an astonishing spread of cakes on 3-tiered stands, and a great urn of tea, served then in exquisite china cups – it was like Claridges a'la charity shop. I had cut an armload of orange lilies from my garden and put them in a huge yellow vase, and my CD player sang out with gypsy violins and an African balladeer; and then, when the audience were all in and had had their cups of tea and goodies, I shouted that I needed a dance before starting, and put on I'll Take You There, by the Staple Singers, and there was boogeying in the aisles!
There was a nice big – if rather elderly – armchair up front for me next to a little stand with books and water bottle and so on – but I like to read standing – so I just stood up and introduced myself and started reading from the poems I'd selected. I'm a lively performer I think, none of those mumbling head-down poetry readings for me, I'm kinetic and gesticulant and all over the place! I was wearing a pair of black velvet trousers with a rhinestone crown on one leg, and I did the poem that is about those trousers, and, by the way, about Prince Charles (as he was when the poem was written)! I started, though, with Valley Song, about how I came here ten years ago… and went on with God's Promises – inspired by a sign outside a Catholic church, and published in this magazine a few years ago. One about a swing-set high on the moors, and oh yes, when it felt right and everyone was warmed up (I could tell they were enjoying themselves, I think the variety and animation of the poems made them happy) I did one called Heart-Breathing Meditation – explaining first about how the meditation works and what it does. The crowd were mostly – though not all – older, and I was a bit apprehensive how the poem would be received; but I needn't have worried – the vibe thoroughly came across, and the room seemed to fall a shade deeper into Being…
And then the Slow the Flow guy spoke – a handsome, middle-aged but fit, vital man, who told us all how well the program is working. I loved this counterpoint to my reading – he, and then Jan, brought in a warm, different, optimistic, extremely practical, giving sort of vibe, and I felt my poems were enhanced greatly by their proximity to this! There was a whole row of the flood charity people standing at the back, wearing black polo shirts with Slow the Flow embroidered on them above the left breast – very smart!
I next read Ballad of the Christmas Flood, and a couple of others, ending with Early Lamplight, about the self-sufficient loneliness of lockdown times. (I did a couple of cat poems in there somewhere too, which resulted in several sales of Flying Lady with Cat.) And I opened up the floor to questions, and there were some… I always like questions.
At the end people milled about chatting, buying books, and saying what a nice event it had been. A general sense of heartfulness was there. I felt great! When I went to bed that night I was just happy all over! It was so good to share the floor with the charities – I can't say precisely why; it simply was! Something mature in it, something giving and loving in such a practical way! I felt privileged to be on that level with them. (There was something about the charities being truly grass-roots and local that I think made it all work with such integrity.)
In one regard though I felt a bit of a fraud: people kept saying how great it was that I was donating half the proceeds from the book's sales to these two charities. Hahaha, I thought, if we really were only about the charities we should have just donated the rather terrible amount the books had cost to produce, and foregone the foisting of poems off on people! (The production was fully local: editor, designer, proofreader, printer, website guy, binder, publicist.) Instead, I wanted to do a book, to honour and celebrate my time in this rugged, wild, gorgeous place, and so a book came to be!
But the next day, on my walk, I had a lovely sense of us having taken many different elements of life in this valley: scenery, tech talent, weather, friendships, accidents of nature, this that and the other thing – and having magically/skillfully/luckily woven them all together to come up with this one blossom, or dance – which we then loosed back into the place, as a gift – out of our hands.
It is a beautiful feeling – of surprise, and happiness, and a kind of crescendo – an optimum moment; given, then, away.