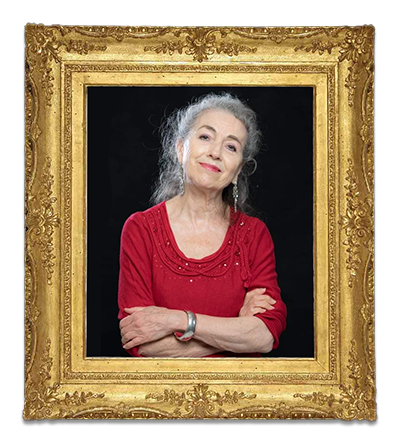 Madhuri Z K Akin is a memoirist, poet, artist, meditator, Human Design practitioner, Intuitive, and retired healer, who lives in the beautiful rocky Pennines of Northern England.
She was born in 1952 in Riverside, California, into a big poor shambles of a family, with an angry, adoring, creative mother and a quiet, brilliant, oblivious scientist dad. It was a moody start to a life, but there were books, and much reading-aloud, and lots of hikes into the surrounding semi-desert.
When she was 15 the family started a Free School, and after that ended there was a blissful time in misty Northern California, where they befriended the mystic artist Morris Graves, who became an important influence. At 16 Madhuri (then Katy) began auditing classes in dance and poetry at UCR. She performed often at coffee houses and published extensively that year and the next, and her professor suggested she contact the poet Denise Levertov, who was very supportive: "You're real. Your poems are real." This connection led to a long publishing relationship at Hanging Loose magazine in New York.
In 1970, when she was 17, she and her little sister hitch-hiked out of smoggy Riverside, looking for a better place to be. After many adventures – in Colorado, Madhuri was invited into a Warner Bros. movie as a dancing extra, and flown to Europe – the sisters met again in Mumbai, at the feet of the mystic Osho. (This story is told in The Teenage Poems and What I've Learned Since, vols 1 and 2, 2022.) Madhuri remained in Osho's communes for the next 30 years, meditating, dancing, loving, suffering, revelling, and working at many jobs. Eventually she taught Intuitive Opening, Dreamwork, and more; and travelled a lot for this. She was in the Osho Mystic Ring in the Mystery School faculty of the Multiversity. It was a wonderful time, full of discovery. (This story is told in her much-acclaimed 2019 book, Mistakes on the Path.)
In 2004 a health crisis took her back out into the world, determined to find a way to go easier on herself in her healing work. Almost without meaning to she took up Human Design, which quickly made her work much lighter, and helped immeasurably in her own life. After 7 years in a loving Tantric relationship with a sweet, wordless Republican in Missouri (this story is told in Love at Dancing Leaves: a Tantra Memoir, 2010) a surprising invitation took her to live in England. Floods, a bout of homelessness, the pandemic, and walks in the beautiful hills surrounding her home all inform her forthcoming book, To Hills and Waterfalls: a Californian in Calderdale.
She is the author of nine books, including the just-out Flying Lady with Cat. Her many teenage and Osho-time diaries, dream diaries, artworks, and artefacts have been bought by the history department of Hamilton College, New York. She is the poetry editor for Osho News, and a frequent contributor to that magazine.
Madhuri loves to dance, meditate under a tree, go on inner journeys, shop for shoes, make colourful, wonky, textured, one-of-a-kind greeting cards (811 of them the first year of lockdown), travel, and read a wide variety of books. She enjoys giving talks, and performing her poems. She gives sessions on Zoom.
Click here to download a press pack with brief author information and photographs, suitable for author biographies and reviews.